Black Spot Awards are the thumb's-downs that "Renegade Gardener" Don Engebretson bestows on the  gardening world from his Minnesota perch this time each.  He pairs them with some High Spot Awards, of course, but some of us have a special affection for Don's bad reviews because they bring out his unique charms.  They're all posted on his website, but I can't link you to them directly because Don's extremely stubborn and has refused to give his readers what we've been asking for for years – permanent links to each of his articles.  (Incredibly, his website is built using "frames" – do you web old-timers remember them?)  Sure, right now you can click on his home page and the awards are right there, but they won't be for long.
(This just in:  Here's the permalink to the 2010 Awards.)
Anyway, here are some particularly Rant-worthy highlights:

Most Careless Magazine Gardening Article:  "Collector's Choice" by Daniel J. Hinkley in Horticulture magazine
Here Don bashes a magazine's recommendation of the universally condemned-as-invasive Princess Tree, and concludes on a publishing note:
Are national gardening magazines even necessary anymore? When you have national magazines that can't even fact-check for invasive plants, what purpose are they serving? Whereas I may not be sold on the "eat local" craze, I think I'll start a new movement of my own: "read local." Virginia Gardener magazine isn't going to write about plants invasive to Virginia, unless it's a warning.
 
After all, what's more regional than gardening? How many times have you cancelled a subscription to a national magazine because half of it was information on plants not compatible to your zone? I say, start supporting state and regional gardening magazines, association and club newsletters, and university and other local websites. Your money and time will be better spent.
So Don, would your "Read Local" campaign extend to websites and blogs?  
Best Movie of the Year: "A Chemical Reaction – The Story of a True Green Revolution"
Don's love for this movie comes with all sorts of criticisms of it, some of which I share -  the incorrect use of "pesticide", for example.  And this one: "He slips up, such as when he compares "toxic chemicals" with "organic treatments" (what he means are toxic synthetic chemicals versus toxic organic chemicals), but halfway through, I had to hand it to the guy. He's fighting a very worthy cause."  See how ultimately the movie wins him over?  That's despite his stated suspicions about the movie – based on it having been recommended on GardenRant. (No offense taken, Don.  I think.) 
Worst Case of Eco-Hypocrisy: U2's "The Edge" Plans Malibu Home
We need people like Don to point out the hypocrisy of describing castle-sized houses for a family of four as anywhere close to green.  Cleverly engineered, "green" excess is still excess.

Best Sign We Win A Small Battle Once In Awhile: Ace Hardware Magazine Rewrites Lawn Fertilizer Copy
This one is sure to thrill the Lawn Reform types and those of us who criticize cozy relationships with Scotts Miracle-Gro.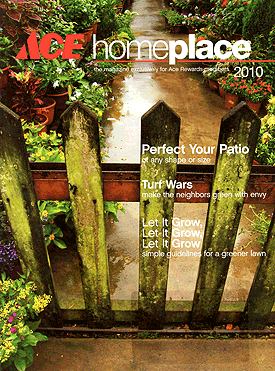 Hats off to Ace. The national hardware store chain actually has broken away from the knowingly false and hideously harmful campaign by Scott's fertilizer to create synthetic fertilizer–dependent lawns, via Scott's ludicrous "4-Step Fertilizer" program.
Don, a conservative defender of American capitalism who believes that 95 percent of all corporations are honest and ethical, goes on to single out Scotts and its ilk as the 5 percent of businesses who are "evil".  (That juicy tidbit and the wonderful "Myth of the 4-Step Fertilized Lawn" rant is found by clicking on the link at the end of the award.)
Worst New Garden Product:  Thornless Roses
Finally, Don is really, really clear in his reaction to people who are afraid of thorns: "WEAR LEATHER GLOVES, you moron, or, better advice, learn how to bowl. There, that's your hobby. Bowling. Enjoy. You moron." 
For all this, plus a hilarious off-topic award involving condoms, we thank our renegade brother-in-ranting.